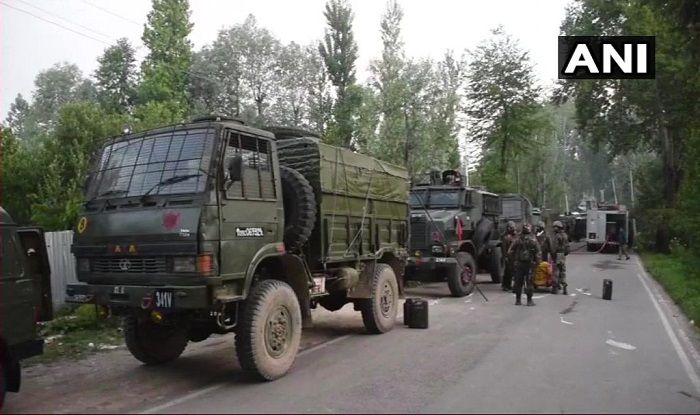 A gunfight started on Saturday between a group of holed-up militants and the security forces in Jammu and Kashmir's Pulwama District, police said.
The 27-year-old jawan, identified as J.D Mandeep Kumar, was part of the 182 Battalion of CRPF.
The terrorists reportedly took advantage of the darkness in the area and managed to escape.
A civilian was also injured during the counter-terrorist operation in the Takiya Bargam Wagum area of the district.
Robinson Cano's Yankees friends react to 'shocking' suspension
Cano suffered a fractured fifth metacarpal in his right hand when he was struck by a pitch from Detroit's Blaine Hardy on Sunday. He is making $24 million this season, so the expected almost 50 percent of his 2018 pay is now going away with the suspension.
Facebook closes 583 million fake accounts
Facebook said Tuesday it took down almost 2 million posts related to terrorist propaganda this year before users reported them. Zuckerberg noted that there is still room for improvement with Facebook's AI tools - noticeably flagging hate-speech content.
United Nations urges countries to eliminate trans fats, reduce cardiac deaths
The goal is for every country around the world to create legislation that stops manufacturers from using them altogether by 2023. Eliminating a big chunk of those deaths can be accomplished in an easier way: by banning trans fats (or trans fatty acids ).
He said during the initial exchange of fire between terrorist and security forces, a CRPF jawan sustained injuries.
A mob threw stones at the forces a little distance away, forcing them to call off the operation apprehending an escalation.
Officialsources said that a joint team of 55 RR, SOG and CRPF at village Chinar bagh, Mohalla Takya in Barpora Pulwama. In the encounter one, Central Reserve Police Force (CRPF) has lost his life.
The latest gunfight comes days after five terrorists including Hizbul Mujahideen militant Saddam Padder, was gunned down by the security forces in Shopian encounter in Jammu and Kashmir. He said the terrorists appeared outside the guard post and held-up selection grade constable Shamim Ahmad who was unarmed and was going to offer Friday prayers at a nearby mosque.