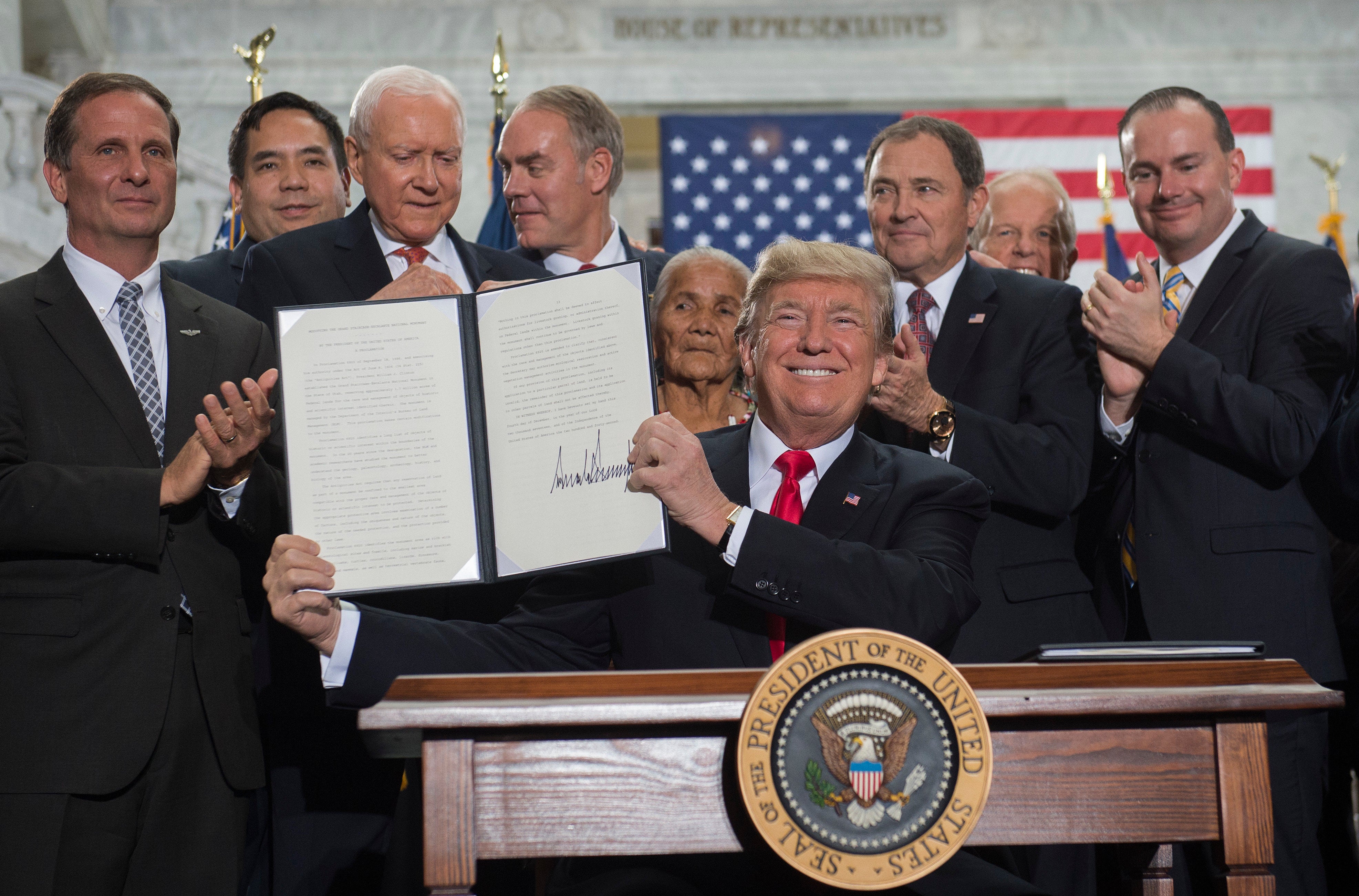 In Utah, Trump Announces Dramatic Decreases In Size To State's National Monuments President Trump announced on Monday in Utah that his administration will dramatically shrink two national monument designations that protect federal public lands. Nearly as soon as the reduction was announced, a deluge of lawsuits were filed on behalf of many involved in that fight - including one by a coalition of 10 conservation groups, and one by a coalition of five Native American Tribes.
But the wilderness groups say Trump needs to bone up on the Antiquities Act.
Patagonia CEO Rose Marcario said the coalition is suing to "protect the places we love", in a letter in Time magazine. This is the biggest reduction of federal land protection in the history of the nation.
Conservation and national monuments go hand-in-hand.
Among the fossil finds from the Grand Staircase-Escalante National Monument, Utah, paleontologists have identified dinosaurs not previously known to have inhabited this region, as well as several new species.
Air NZ forced to trim schedule due to 787 engine maintenance
Damage to turbine blades on a Rolls Royce Trent 1000 engine shut down by pilots on an Air New Zealand Dreamliner just after takeoff from Auckland on Tuesday.
London is open so is Lahore: Ali Zafar greets Sadiq Khan
He said that successful counter-terrorism efforts have made Pakistan an opportune destination for British businesses. The London mayor was also briefed about the investment opportunities for trade and investment in the country.
Ex-policeman faces 20 years in prison for Scott slaying
The two scuffled and Slager opened fire as Scott was running away, hitting him five times in the back. The incident, which ended in Scott's killing, was captured on cellphone video by a nearby onlooker.
While President Trump explained that modifying these landmarks would open land up to citizens and American businesses, Patagonia and REI are arguing that this decision would instead deplete both national monuments, prevent people from using public lands for recreational activities and harm the prosperity of the USA outdoor industry.
Trump said Monday the "public lands will once again be for public use". "The Outdoor Industry Association will continue to educate the industry and all Americans about President Trump's assault on our industry and our nation's public lands, and we will continue to support the members of Congress who defend both and who understand the importance of the outdoor recreation economy to local communities". And we'll use every tool available and we will prevail.
Ancient granaries, part of the House on Fire ruins are shown here in the South Fork of Mule Canyon in the Bears Ears National Monument.
"The President and a handful of politicians would like you to believe that they are doing what is best by rescinding 85 percent of Bears Ears National Monument and almost half of Grand Staircase-Escalante National Monument", Marcario wrote. No president has ever revoked and replaced a national monument before because it is not legal to do so.