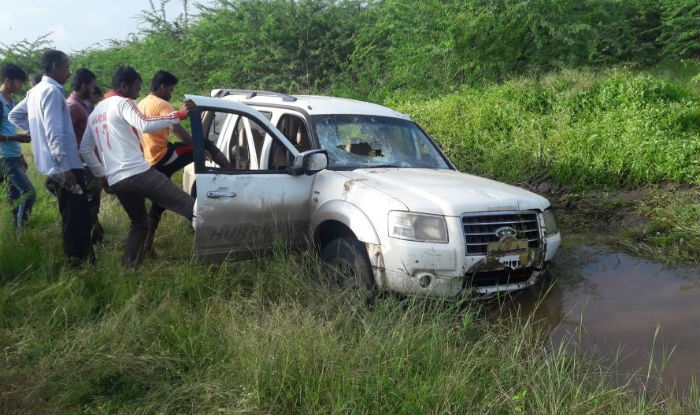 Pune: Two schoolgirls were killed and another was injured when they were run over by a speeding SUV belonging to a Shiv Sena leader's relative in Maharashtra's Baramati on Thursday morning.
Angry locals set the SUV ablaze after, Pappu Mane and his accomplices fled from the spot. The irate people gathered the accident spot set the SUV on fire.
The deceased, identified as Samiksha Vitkar (13) and Divya Pawar (12), were on their way to school when they were mowed down. The news channel also said that while it was unclear whether Mane was driving the vehicle himself, he had fled from the spot after the accident and was now absconding. Their friend Payal Lashkar (12), walking alongside them, escaped with minor injuries.Prima facie probe revealed that the SUV belonged to the Baramati city unit chief of a political party. The local villagers managed to nab one of the occupants and handed him over to the police before beating him up.
NFL commissioner's wife was using anonymous tweets to defend him
Jane Skinner Goodell called the Tweets "a really silly thing to do", but said she only did it out of frustration and love. Watching people constantly mock the man you love must be tough, so you can't blame her for wanting to fight back.
DICE offers clarification on Star Wars: Battlefront 2's controversial crate system
For the most powerful items, they are working to make those only obtainable via in-game achievements. Crates will include a mix of of Star Cards, Outfits, Emotes or Victory Poses.
Feminists tear into Women's March for having Sanders headline convention
Women's March co-founder Tamika Mallory defended their headliner, insisting he knows how to galvanize Millennials. We are thrilled that Rep Maxine Waters and Senator Sanders will be speaking at the Women's Convention.
According to police, three girls were going to their school via Baramati-Morgaon Road around 8 am, when a vehicle hit the girls. Mr Mane has been detained for questioning.
It took almost a couple of hours for police to bring the situation under control.